"Kralevo" Quarry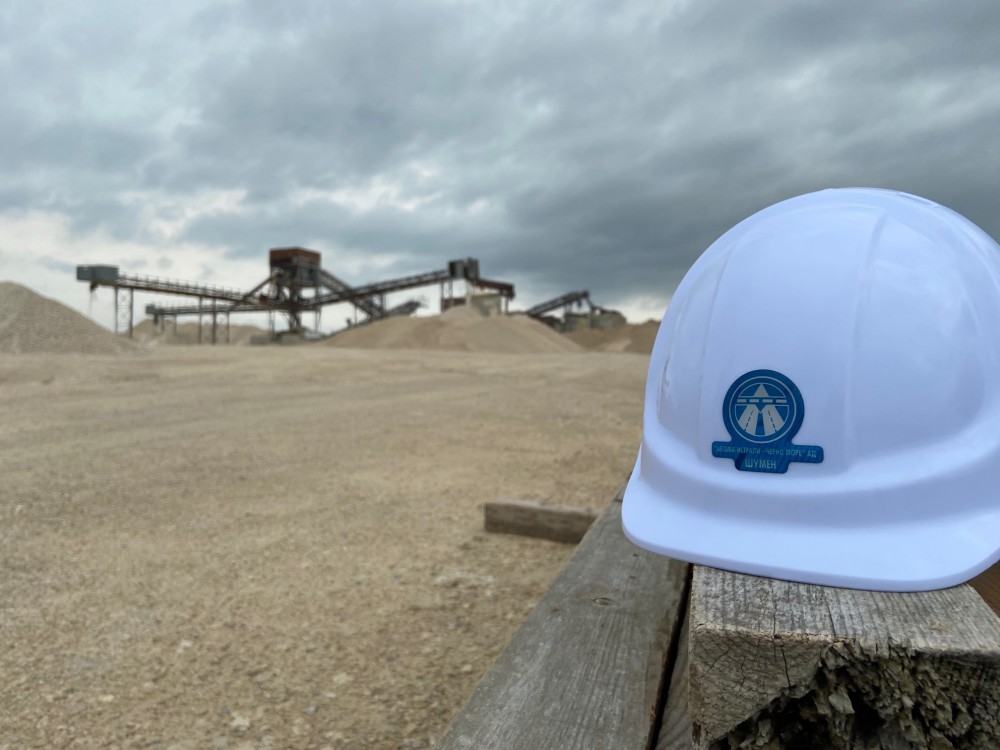 "Kralevo" quarry is located on the northern side of Preslav-Dragoevska mountain. Lower Cretaceous sediments from gray to gray beige recrystallized limestones are mined there. The extracted limestones have a dolomite component, which has a well-defined layered character.
The processing is carried out through a crushing and sorting installation TSI 'Kralevo', as well as through a mobile crusher 'METSO'. It produces fractional and non-fractional material, on average 5,000 tons / day. The finished products from the "Kralevo"quarry are a quality assortment of narrowly and widely sorted fractions. Such rock fractions are used in the laying of road foundations or concrete and asphalt mixtures of any kind.
From the quarry are obtained:
BDS EN 12620: 2002 + A1: 2008 - Admixtures for concrete.
BDS EN 13043: 2005 + AC: 2005 - Rock materials for bituminous mixtures and pavements for roads, airfields and other transport areas.
BDS EN 13242: 2002 + A1: 2007 - Rock materials for unbound and hydraulically bound mixtures for use in construction and road construction.
BDS EN 13450: 2003 + AC: 2005 - Crushed stone for railway Lines on system 2+ conformity assessment obligations are fulfilled and the production control complies with all prescribed requirements for these operational indicators.
The material-petrographic composition of the extracted raw material is certified by an accredited laboratory according to BDS EN ISO / IEC 17025: 2006.
BDS EN 932-3: 2000 / A1: 2004 - The raw material is composed of sedimentary limestone rocks.
Contacts:
Request phone: +359 899 91 20 34
E-mail: kantar.kralevo@amshumen.com
Address: Postal code 7770, Kralevo, Targovishte Municipality.
Prices and pricing policy of "Kralevo" quarry
Avtomagistrali - Tcherno More JSC works with clients by preparing individual offers for each request. We take into account both the prices of the mixes and factors such as quantities, transport, etc. We reserve the right to make price changes and discounts. Request an offer - request quantities according to your needs today.
Price catalog for "Kralevo" quarry : Download PDF Price Catalog
Frequently asked questions about the work with "Kralevo" quarry
- What are the payment methods?
Advance payment or securing the due amount by a financial instrument (insurance, bank guarantee)
- What is our working time?
We work from 7:30 until 16:30 and deliver in accordance with the schedules of our customers .
- Are the products from the quarries certified?
Yes, all our products have quality certificates and are accompanied by a declaration of conformity.
- Once the request is confirmed, how long does it take for the delivery?
Each delivery is preliminary agreed with the customer's schedule
- What is the best way to order inert materials ?
You can either contact us directly by phone, or send a request form to us.
- Can I buy inert materials in small quantities?
Yes, you can buy products depending on your needs.
- Do the prices in the catalog change in case of larger orders?
Price proposals are made individually to each of our customers.